Here's a neat editing tool which I recently discovered while paying a visit to Jo Robinson's blog. Jo is an eclectic blogger and also one who takes helping fellow Indie writers to heart. Her post linked to Nina Soden's blog where I discovered the Pro Writing Aid.
I was (and still am) in the midst of preparing to enter 3,000 words of my crime novel into a competition. I entered last year (same manuscript) and although I didn't even get long listed, I was in the top 25 out of over 500 entries. Things like this are encouraging and so here I am, one year later, re-working my manuscript. During the year I had the 3,000 words edited by two different editors.

I don't like editing my work because most of the time I know there's something wrong but either I don't know what exactly it is and/or how to fix it, or even if something needs editing.
Then I read this on Nina Soden's post:
PRO WRITING AID – This is an online writing editor and personal writing coach. It checks grammar and spelling; helps to improve overall readability; finds overused words; improves dull paragraph structure; locates repeat words and phrases; checks for consistency of spelling; hyphenation and capitalization; warns you about clichés and redundancies; and so much more. I learned about this tool through a friend that does line editing as a freelancer. She told me that it was an inexpensive way to help improve writing as you go and that it was extremely user friendly – SHE WAS RIGHT! I highly suggest trying it out. What is the worst that could happen?
I gave the Aid a try with my 3,000 words. For the freebie, you can only feed the software 1,000 words at a time but, believe me, you wouldn't want to work with more.
The Pro Writing tool instantly analysed my writing and provided me with an analysis summary similar to the one below.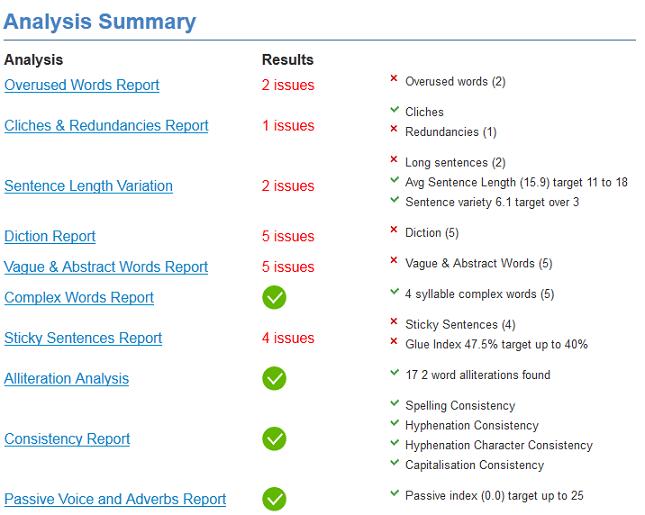 The analysis of my text showed that I had a total of 53 issues! 53 issues that paid editors missed!
Okay some (few) errors reported had to do with names. Still, that only brought my total down by a hair.
Besides a free version, there's also a premium version (of course).  The free version reports all the issues that the premium version does. Also, both show you exactly where the issues with your text are and at times provides suggestions.The difference, as far as I saw,was that the premium version allows you to edit as you go along. Nice time saver!
Even after using the free version I found my text to be tighter and cleaner. It also made editing more enjoyable.
 For more information on this tool just click here.
Have you tried this aid?