Svetlana Alexievich wins the 2015 Nobel Prize in Literature.
An investigative journalist from Belarus, Alexievich is the 14th woman to win this prestigious prize and the first female Russian writer to do so.
What is unusual about her winning the prize for literature is that her writing is non-fiction.
Literature is just a fancy word for writing says Philip Gourevitch in his The NewYorker article titled Non Fiction Deserves a Nobel.
Sophie Pinkham in her article in The new Republic Referred to Alexievich  as the Dostoevsky of nonfiction because of her "belief that compassion is the greatest hope for humankind…(and) Like Dostoevsky, Alexievich is concerned not only with national realities, but with universal human values."
Alexievich focuses on stories about war, conflict and tragedy, often using the Soviet Union or former Soviet countries as the backdrop. She has written about World War II, the Soviet-Afghan War and the Chernobyl disaster.
She has been very much concerned about how women see war.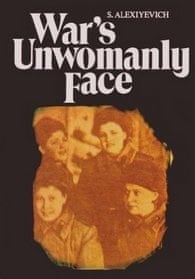 Irish director Juanita Wilson directed a short film based on Voices from Chernobyl, which was nominated for an Oscar in 2010.